Well, much has happened since I last blogged! Or rather one major thing...on 3rd November our little girl Gracie was born :-)
Life has changed somewhat. Physically I had a little bit of a tough time but I'm almost back to full strength again now so running around after the littl'un is getting easier, which I'm sure she appreciates!
As she was 2 weeks overdue I had plenty of time for making things and when she was just 7 days old we had a little stall at the Upottery Primary School shopping evening. I lost count of the number of ladies who said "She's one week old? What are you doing here?!? You should be at home with your feet up!" But actually it was really good to get out of the house and feel a bit more human.
Then yesterday, the three of us took our first walk in the pram up to Tesco (unimpressed - tears followed) and then the pub on the way back (approval - good girl!). It was an eventful day all in all.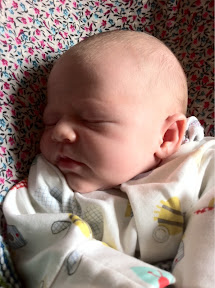 So to sum up, Gracie is amazing and I'm hoping fit my crafting in around her as we get a more established routine :-)
- Posted using BlogPress from my iPad
Location:Honiton,United Kingdom